Equities markets in Europe were lower Thursday as most miners showed declines and banks were mixed at best.
The FTSE 100 was 0.43 percent lower to 4,869.35 in London, while the FTSE 250 dropped 0.93 percent to 8,701.33.
Barclays Bank (LSE: BARC) was the only gainer in the London banking sector as it added 1.63 percent, while Lloyds Banking Group (LSE: LLOY) led decliners, dropping 3.48 percent on the session.
Miners were mixed, with most seeing declines.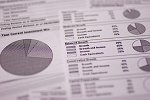 The few gainers in the sector were led by gold miner Peter Hambro Mining (LSE: POG), which added 6.48 percent, while the worst performance in the sector came from Aquarius Platinum (LSE: AQP) with a decline of 7.47 percent.
Medical devices maker Smith Nephew (LSE: SN) led gainers on the 100 as it added 4.61 percent while engineering group IMI (LSE: IMI) had the best day on the 250 with a gain of 13.33 percent.
On the other hand, aerospace and defense group BAE Systems (LSE: BA) lost the most on the 100, dropping 5.56 percent, as estate agents Savills (LSE: SVS) fell 8.19 percent for the worst performance of the day on the 250.
The FTSE Eurofirst 300 was down 0.53 percent to 968.75 while the IBEX fell 0.17 percent to 11,356.9, the CAC-40 was 0.54 percent lower to 3,648.53 and the Dax dropped 0.94 percent to 5,470.33.
Banks managed some gains on the CAC-40, with Credit Agricole (Euronext: ACA) up 3.65 percent and Societe Generale (Euronext: GLE) adding 0.83 percent, but Deutsche Bank (FWB: DBK; NYSE: DB) dropped 2.11 percent on the Dax.
Utilities did well on the session in both Paris and Frankfurt as GDF Suez (Euronext: GSZ, GSZB) was up 2.02 percent while Eon (FWB: EOA; LSE: EON; NYSE: EON) added 1.39 percent, RWE (FWB: RWE) was 1.04 percent higher and EDF (Euronext: EEN) gained 0.97 percent.
Hotels operator Accor (Euronext: AC) had the best day on the CAC-40 as it added 5.73 percent while Deutsche Post (FWB: DPW) turned in the best performance on the Dax with a gain of 1.61 percent.
Agricultural chemicals group KS (FWB: SDF) was down 5.42 percent for the worst performance on the Dax, while Alcatel-Lucent (Euronext: ALU; NYSE: ALU; TYO: 6687) dropped 5.33 percent for the biggest decline on the CAC-40.
Most markets were lower in the Asia-Pacific region as well, although India's Sensex was 0.07 percent higher to 15,781.07 and the Straits Times Index added 0.53 percent to 2,642.23.
In Tokyo, the Nikkei 225 was down 1.56 percent to 10,473.97 while the Topix index fell 1.16 percent to 964.23 and the Mothers market dropped 0.71 percent to 456.52.
Traders were lower on the session as commodities prices fell, with Mitsubishi Corp (TYO: 8058) down 2.1 percent while Mitsui Co (TYO: 8031) dropped 2.8 percent.
Among shippers, Mitsui O.S.K. Lines (TYO: 9104) was 1.6 percent lower while Nippon Yusen (TYO: 9101) fell 2.4 percent.
In Australia, the SP/ASX200 was down 0.08 percent to 4,450.8 and the Sydney Ordinaries dropped 0.14 percent to 4,458.1.
The Taiex was down 0.42 percent to 6,690.75 while the Shanghai Composite fell 0.71 percent to 2,946.4, the Kospi was 0.92 percent lower to 1,599.33 and the Hang Seng dropped 1.04 percent to 20,242.75.
In early afternoon trade in New York, the Dow Jones Industrial Average had added 0.02 percent to 9,545.79 but the Nasdaq Composite was down 0.74 percent to 2,009.46 and the SP 500 had dropped 0.34 percent to 1,024.59.