According to the Council of Mortgage Lenders the number of mortgages given to first time buyers has fallen to a new low with just 23,400 in January.
Although the new year period is always quiet in the housing market a combination of stumbling house prices and the lack of availability of mortgages for those with small deposits has meant that the number of loans made for house purchase has fallen by 28 percent from December.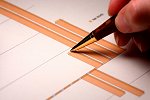 The number of first time buyers obtaining mortgages has almost halved from January 2008 when 48,600 new loans were agreed.
The cuts in interest rates made by the Bank of England over the last few months has made it cheaper for those who currently have mortgages however most lenders have not successfully passed these cuts onto their customers as many have withdrawn their cheapest deals.
Many mortgage holders have as a result been put off re-mortgaging and are likely to stick to the standard rate that is on offer once the discounted period comes to an end.
The CML has indicated that the mortgage market will remain weak as gross lending has fallen to £11.7bn which is the lowest monthly values since April 2001.
However those borrowers who are able to raise a large enough mortgage will benefit from a unique combination of both falling interest rates and house prices which makes the up and coming period an ideal time to make property investments.