2016 saw a recovery in the big gaming companies. Whilst Macau's gaming revenue had continued to fall through the first half of 2016, it finally saw consecutive months of growth in the second half, with the rise in March 2017 being Macau's seventh consecutive month of recovery. Reports in the same month that its VIP segment remained strong also helped improve investor confidence.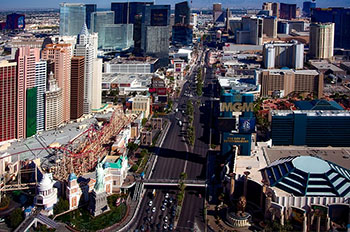 In 2016, Las Vegas also continued a slow and steady recovery, and that helped drive shares of MGM Resorts higher. 2016 also saw the opening of new resorts including Wynn Resorts (NASDAQ:WYNN) and Las Vegas Sands (NYSE:LVS). These took revenue from existing resorts, creating an incremental negative for Melco Crown (NASDAQ:MLCO) and MGM Resorts (NYSE:MGM) in the region.
On March 28, 2017, WYNN Resorts continued to be the biggest gainer year-to-date (or YTD). It had risen 33.3 percent YTD, followed by MPEL, which had risen 17.2 percent. LVS had risen almost 6.7 percent YTD in the same period. MGM Resorts was the only loser, having fallen 5 percent YTD.
Casino Stocks: your best gamble
Macau
A few years ago, Macau was the big growth market and Las Vegas an after-thought. Most analysts believe that Macau's casinos are set for continued growth in 2017. According to GGRAsia, analysts expect these casinos' revenues to rise in the range of 9–11 percent YoY as their VIP segments continue to strengthen. Real money online casinos are on the same level according to this site – the number of online casino players is expected to grow from 5 to 15% next year.
For 2017, other analysts also expect Macau's casinos' revenues to rise 8–10 percent and these may be your best casino bets to gamble on. However, the Macanese government maintains its forecast of 200 billion pataca, or USD35.4 billion, in revenues. Currently, Sands China (LVS), Wynn Resorts (WYNN), MGM China (MGM), Galaxy Entertainment, Melco Crown (MPEL), and SJM Holdings are the major casino operators in Macau.
Investors can gain exposure to LVS by investing in the iShares US Consumer Services ETF (IYC), which invests 0.69 percent of its portfolio in the casino stocks.

Las Vegas
Las Vegas has been stagnant for 4 years, but is consistent from a gaming perspective and resorts are able to continuously raise prices on hotel rooms. Add to that other non-gaming revenue including nightclubs, malls, and restaurants, and Las Vegas is slowly but steadily adding to cash flow generation. All of which ties into how investors should look at valuation today. By comparing enterprise value (net debt plus market cap) to EBITDA(EBITDA-Calculator), a measure for cash flow coming from a resort, you get one of the best measures of a gaming company's value.
Wynn Resorts has recently completed its most expensive resort to date and eventually it will begin generating hundreds of millions in EBITDA annually. Assuming it generates USD600 million in annual EBITDA, a similar figure to the less expensive Wynn Macau, the stock's EV/EBITDA ratio falls to 9.0, which may be a better measure of its value.
Best stocks today
MGM Resorts is a steady, slowly growing operator. They will open a new resort in Macau in 2017, incrementally adding to cash flow. If you are a risk-averse gaming investor, this is the best casino stock on which to gamble.
If you think a Macau recovery is on the horizon, then Wynn Resorts is considered good value. The company's Wynn Palace will increase revenue and EBITDA throughout 2017 and benefit from its location near the airport and light rail when construction around the resort is complete. The risk is that Macau may go into decline again, which impacts Wynn more than MGM.
At the end of 2016, it was suggested that Melco Crown Philippines, a subsidiary of Hong Kong gaming giant Melco Resorts & Entertainment Ltd, may not be well positioned long-term due to it not having any near-term growth resorts. Yet in May 2017, Melco Crown Philippines was up 117 percent. The Philippines' promotion of phone gambling, banned in Macau, and an anti-corruption drive in the Philippines has also encouraged Chinese gamblers to visit.
Being highly exposed to the Chinese market, will make Melco Resorts more sensitive to the state of politics between Manila and Beijing, though the recent loosening of visa requirements are expected to boost Chinese visitor arrivals to the Philippines in 2017.